The winner is Clay Harmon! Congrats!
I really love doing these! It's like a random act of kindness. It allows one person who might not have made it into the contest to have a shot at the agents. The free pass winner will skip the slush and become one of my final picks for #QueryKombat!
You'll only have to survive the round one battle to go to the agent round!
And you are guaranteed constructive comments from the judges!
The Free Pass is the great equalizer!
That's the way to hit it out of the ballpark!
Did I mention that we have 29 agents already? 29 agents!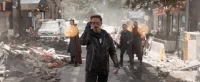 Even Iron Man is astonished!
So here we go:
1. I've been enjoying #1LineWed and want to do something similar. Leave a blog comment below with a favorite line or lines from the manuscript you plan to enter. That's it. No other information about your ms allowed--such as genre. It's more fun just to have the lines and no context. This is strictly for fun. The writing won't be judged or anything. Winner will be based on a random drawing by the rafflecopter.
2. You also need to use the rafflecopter to record that you left a comment. The rafflecopter will pick the winner. If you aren't in there, you can't win. There will be additional options to score more entries and raise your chances. They are options having to do with my books and that's why they are optional, but I appreciate your support!
This free pass will stay open until May 14th. That gives you two weeks. What are you waiting for--get to entering!
And good luck!
a Rafflecopter giveaway